Would you like to take seven classes about drawing in pen and ink for FREE?
Of course you would. 🙂
Skillshare is an online learning platform that features thousands of classes across a wide range of subject areas. I've selected and reviewed seven classes from them that will teach you how to draw in pen and ink, starting with the basics and finishing with a project that enables you to test your skills.
You can take these classes for absolutely nothing – by using my referral links below, you can access all the classes on SkillShare (thousands of them) for two whole months, absolutely free of charge. After that, you can keep your SkillShare subscription going for only $12 a month (or as low as $8 a month if you pay annually) or you can just cancel your subscription before the end of the two months and you won't be charged a thing.
I'm an active SkillShare subscriber (and I teach a class too) – I love the platform as there are always new classes being published. I always enjoy seeing how other artists work as I like to try new techniques and effects. 🙂
As an affiliate, I get a small payment from SkillShare for every new member that actually stays after the two months but you're free to cancel your membership before then so you don't get charged, essentially getting all seven of these classes for free.
Teacher: Yasmina Creates
Length: 29 minutes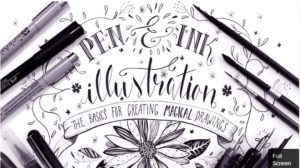 Yasmina Creates (her name is Yasmina) produces some very professional classes on all kinds of drawing and painting. I think her introductory class on creating with pen and ink is one of the best I've seen. I'm very comfortable with a pen. I've been drawing with one for almost my entire life but I've never used a brush with ink before I took Yasmina's class and that was a lot of fun!
Yasmina explains all the pens and brushes (including dip-pens), shows you how to use them and teaches you to actually draw a lovely bird, step-by-step.
I highly recommend this class for absolute beginners as she takes you through everything that you need to know to get started and provides some fun projects for you to actually draw (so it's not all practicing drawing straight lines). 🙂
Teacher: Phil Emerson
Length: 34 minutes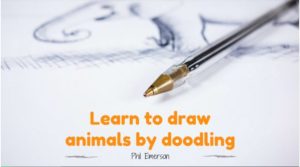 I created this class two years ago to teach absolute beginners that drawing is easier than they think. I teach the entire class using a ballpoint pen – absolutely no pencils or erasers in order to build confidence. Instead of worrying about drawing everything perfectly, it's much more fun to just draw and embrace your mistakes!
The class will teach you, step-by-step, how to draw a cute elephant, shade it using simple hatching and to add background elements for interest.
I'm currently in the process of recording new videos for this class so it will be extended in the near future.
Teacher: Shirish Deshpande
Length: 53 minutes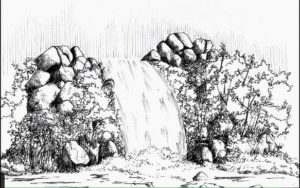 Shirish does an excellent job of introducing you to the general ideas behind sketching before going on to teach you different methods of shading (hatching and stippling) to convey light and texture.
One of the highlights of this class are the two projects, one in black and white and the other in color. The first teaches you how to effectively use textures to convey a scene. The second shows you how to first draw a scene in pencil, ink it and then color it using watercolors.
One of the things that I like about Shirish's classes is his insistence that there are no rules about how you choose to draw and paint. Sketching should be about fun and creativity, not following silly rules that stifle your creativity! 🙂
Teacher: Margarita Bourkova
Length: 27 minutes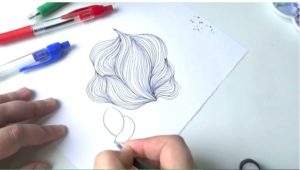 If there's on thing I love, it's hatching and this class really teaches you about hatching.
I really love the three in-depth tutorials that Margarita presents, showing you how to render shadow, texture and how to apply lovely wavy hatching to suggest pattern of hair. The steps are easy to follow and the advice in each class is highly actionable and will probably be useful in any kind of ink drawing you may want to draw in the future.
I recommend this class even for experienced inkers, just because it's so lovely to watch.
Teacher: Peggy Dean,
Length: 1 hour, 19 minutes
If you're at all interested in drawing flowers and leaves, this is a fantastic class that goes way beyond introduction. Peggy shows you how to draw all kinds of different flowers and leaves, just as line drawings.
The beauty of this approach is that you can then apply the hatching and stippling techniques that you learn in the other classes I've reviewed to the flowers that you draw in this class although I recommend you see the next class (Pen & Ink Florals) before you do. 😉
Teacher: Sandra Bowers
Length: 24 minutes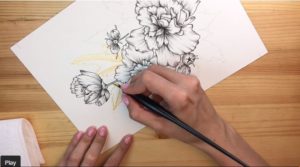 I really liked Sandra's class. It teaches the basics very effectively, showing you how to draw different lines using various pens and more importantly, how to use strokes effectively as part of your technique.
The demonstration as she shades the petals of the flower she has drawn is really lovely to watch. She clearly shows that less is more when it comes to hatching and how to gradually darken the deepest areas of shadow to maintain the delicacy of the petal.
Teacher: Pattie Schleicher
Length: 47 minutes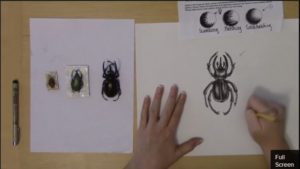 Pattie does a great job of introducing the usual shading basics before moving onto selecting a subject to draw (a beetle).
She shows you how to break it down into simple shapes and then shows you how to outline them and then shade the forms to create a realistic representation of the insect.
Don't be put off by the formal sounding title. This is actually a very enjoyable class that is easy for the beginner to follow.
Always keep learning
I'm always fascinated by how other people draw and the processes behind their art. One of the reasons that I continue subscribing to Skillshare is that it enables me to watch how other people draw and paint and see if there's something in their technique that I can learn from.
There are so many fantastic classes on Skillshare, I hope you manage to make the most of your free two months and try as many of them as possible. If not, well, you could always keep your subscription going like I did! 🙂